Home
Version 12 Updates Page
Strat-O-Shack
Logo and Picture/Alias Files
Version 11 Updates Page
Season Roster Sheets
Deluxe Ballparks 0-4
Deluxe Ballparks 5-9
Deluxe Ballparks 10-14
Deluxe Ballparks 15-19
Deluxe Ballparks 20-24
Deluxe Ballparks 25-29
Deluxe Ballparks 30-34
Deluxe Ballparks 35-39
Deluxe Ballparks 40-44
Deluxe Ballparks 45-49
Deluxe Ballparks 50-54
Deluxe Ballparks 55-59
Deluxe Ballparks 60-64
Deluxe Ballparks 65-69
Deluxe Ballparks 70-74
Deluxe Ballparks 75-79
Deluxe Ballparks 80-84
Deluxe Ballparks 85-89
Deluxe Ballparks 90-94
Deluxe Ballparks 95-99
Regular Ballparks #1
Regular Ballparks #2
Regular Ballparks #3
Regular Ballparks #4
Ballparks Ratings
Minor League BPs
Stadium Backdrops
Japanese Baseball Stadiums
Board Game Stuff
Pitcher Hitting Cards
Game Sounds
E-Mail Gary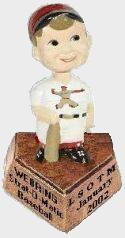 Proud winner of the Webring Site of the Month for January, 2002 "Sandie Award"
Welcome to my Strat-O-Matic Baseball Web site! Included is a plethora of SOM related material and information that will enhance your computer game play. All of the content is free for you to use.

Please remember that the Strat-O-Matic Game company produces our favorite games and that we should continue to help support them. This site is intended to enhance your game playing experience and in turn increase interest in SOM games.
---
What's up:

Computer Baseball Version 10 and beyond requires authorization for all seasons. Most of the Hand Created Seasons will require you to own the 1950 MLB disk sold by Strat-O-Matic. A few of the seasons will need the same MLB season as the created season. There is no way around this. Please do not trouble (call, email) SOM support. Please do support SOM by buying their products. As I create more seasons, I'll do my best to keep the authorization to the 1950 disk.

Checkout the NEW V11 page and the updated Board Game "Stuff" pages. As many of you know, much of our material (patches, season updates, 'As played', fringe players) has been included in V10 and V11 of the computer Baseball game. Go out and upgrade today!

Strat-O-Matic web site. Also checkout Hockey, Basketball and Pro and College Football. The hockey Hall of Fame set is well worth the money!

Rob Ratliff is the creator of most of our "As-Played" seasons for the computer game. Check out his site for text versions of the "As-Played" data at: Rob's Replay Data Site.

Visit the SOMWorld Fan Forum (my personal favorite SOM resource) at:
SOMWorld web site

Read the new on-line "Sports Game Publication" for all you board and computer gamers - Sports Game Publication

Read Dave Jackson's article about the 2002 Strat-O-Matic Convention
Dave Jackson

Now available -
Added V11 Nickname file
Added 1894, 1897, 1900 player photos link, Season commentaries

Minor League and Assorted Seasons

Added 2005 International League AAA Season
Added 2004 Southern League AA Season
Added 2004 Pacific Coast and International League AAA Seasons
Added 2005 NCAA DIV II College playoff teams
Added 2005 College World Series (top 16) teams
Added Fred Bobbert's 1992 Japanese League Season (Japan seasons page)
Added 1933 International League AA Season
Added 2004 College World Series "Super Regionals" teams
Added 1928, 1929 and 1950 AA, IL and PCL Seasons
Added Fred Bobbert's 1930 Negro National League Season

Ballpark Images

Added New Jacob's Field Night shot - SDBP (thanks to Tom Perantoni)
Added New Louisville Ballpark - SDBP 82L
Added New Brooklyn Eastern Park - SDBP 86E
Added 1961, 1962 Roster patches
Added 1935-1938, 1940, 1942 - 1949 Season updates
Added 1930, 1960, 1968 Roster patches
Added HR call by Duane Kuiper
Added 1901, 1908, 1911, 1918, 1934, 1939-1942, 1944-1950, 1970-1974, 1981
Added 1959, 1964, 1967 Pitcher's Hitting cards (PAH)
Added 1920, 1927, 1975, 1978 Pitcher's Hitting cards (PAH)
Added 1911 PAH, 1955 PAH, 1967 Japan League Teams
Added 1872 select Teams
Added 1908, 1959, 1961, 1962, 1968, 1969 and 1975

General Updates / Information

Added 1946 Season golfers for Computer Quick Play Golf (Quick Play Golf page)
Added V10 Baseball Team Nicknames file (SOM Information page)
Added 2004 PGA and Senior Ratings for Computer Quick Play Golf (Quick Play Golf page)
Added 1971-1974, 1976 Advanced ratings for board gamers (Player rating page)
Added Chris Berman back, back, back Home run call (Game Sounds page)
Updated 1934, 1954 and 1971 ML fringe players

Career Historical Disk Creations

Added new CHD "1960s World Series Teams"
Added New CHD Seasons (5 Year Cumulative Team Seasons)
---
So many of you have contributed to this web site - Thank You all!

Please join the family and submit any of the efforts that you have created to better enjoy your SOM game play. The pay stinks and the fame is fleeting.
---